Source Article Link: https://cakelabs.com/news/cake-wallet-adds-robinhood-connect/
It's never been easier to get into crypto! Monero.com v1.6.1 fixes Monero coin control and additionally, Cake Wallet 4.9.1 includes bug fixes for Ethereum Robinhood Connect, so you can instantly purchase coins; piece of cake.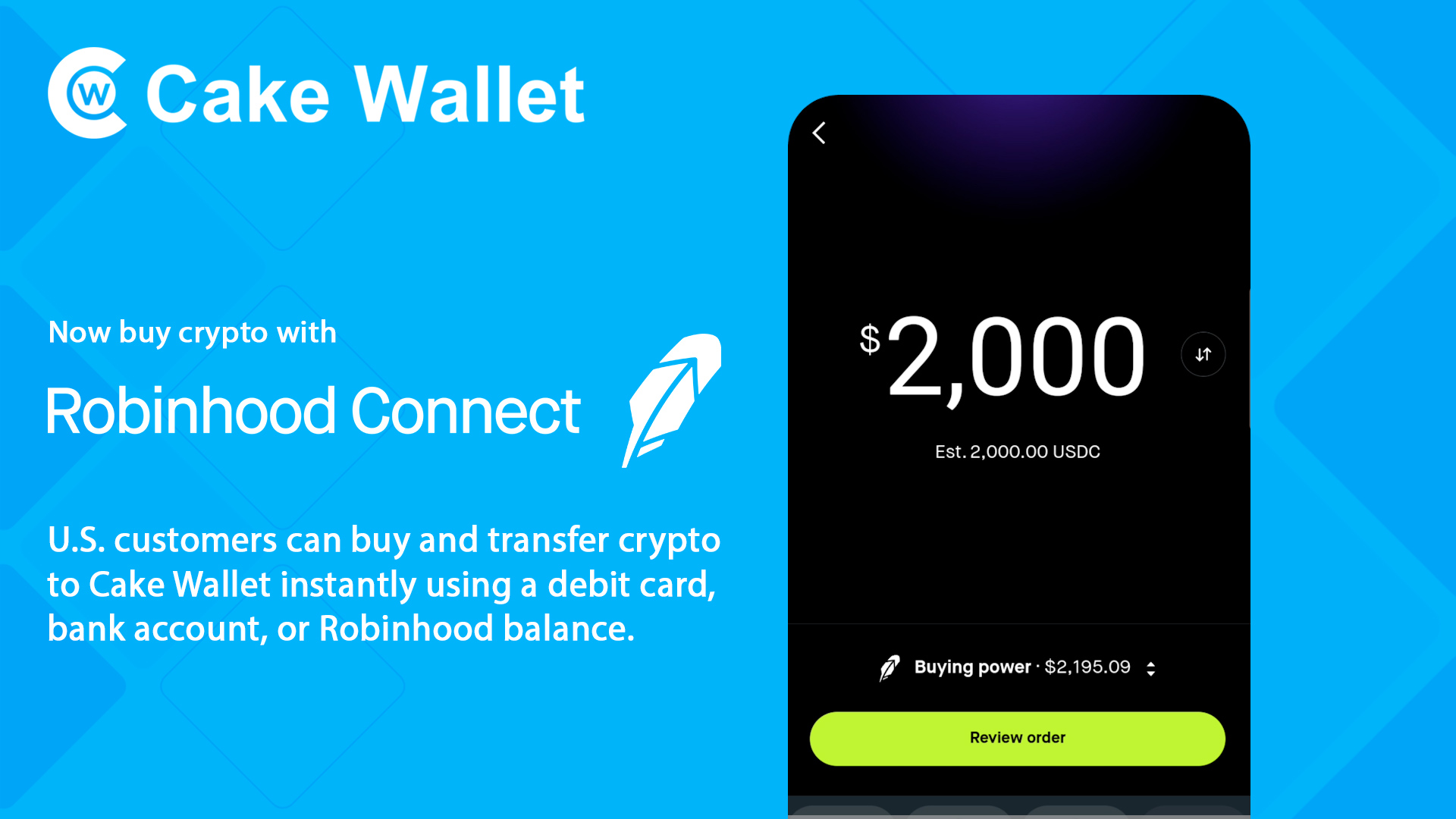 Robinhood Connect is an easy way to buy and transfer crypto directly to your self-custody Cake Wallet. Robinhood Connect is currently available in 47 US states. Delivery is near-instant. Robinhood Connect works with Bitcoin, Litecoin, Ethereum, various ERC-20 tokens, and other assets. Monero is not a supported Robinhood Connect asset.
With Robinhood Connect, Cake Wallet has one of the simplest, fastest, and cheapest ways to get crypto in your self-custody wallet. If you already have a Robinhood account, you're good to go! Otherwise, you will need to make a Robinhood account with the Robinhood app first. Simply click the "Buy" button on the homescreen, then click Robinhood Connect.
---
Cake Wallet (multi-coin wallet)
Monero.com by Cake Wallet (Monero-only wallet)
It's never been easier to get into crypto! Monero.com v1.6.1 fixes Monero coin control and additionally, Cake Wallet 4.9.1 includes bug fixes for Ethereum Robinhood Connect, so you can instantly purchase coins; piece of cake. Robinhood Connect is an easy way to buy and transfer crypto directly to your self-custody Cake Wallet. Robinhood Connect is currently available in 47 US states. Delivery is near-instant. Robinhood Connect works with Bitcoin, Litecoin, Ethereum, various ERC-20 tokens, and other assets. Monero is not a supported Robinhood Connect asset. With Robinhood Connect, Cake Wallet has one of the simplest, fastest, and cheapest ways to get crypto in your self-custody wallet. If you already have a Robinhood account, you're good to go! Otherwise, you will need to make a Robinhood account with the Robinhood app first. Simply click the "Buy" button on the homescreen, then click Robinhood Connect. Cake Wallet (multi-coin wallet) Apple iOS: https://cakewallet.com/ios Apple MacOS: https://cakewallet.com/macos Google Play: https://cakewallet.com/gp Android APK: https://cakewallet.com/apk Linux Flatpak/Tar: https://cakewallet.com/linux Monero.com by Cake Wallet (Monero-only wallet) Apple iOS: https://apps.apple.com/app/id1601990386 Google Play: https://play.google.com/store/apps/details?id=com.monero.app Android APK: https://cakewallet.com/apk