Source Article Link: https://cakelabs.com/news/cake-wallet-adds-ethereum-and-monero-background-syncing/
In one of the most exciting updates for the Cake Wallet team, we now have support for Ethereum and ERC-20 tokens! A vast array of decentralized exchanges, NFT markets, tokens, and so much more is now easily accessible from your Cake Wallet. We understand the importance of privacy and security when it comes to your crypto assets; that's why we've added a privacy setting that allows you to disable the Etherscan API if desired.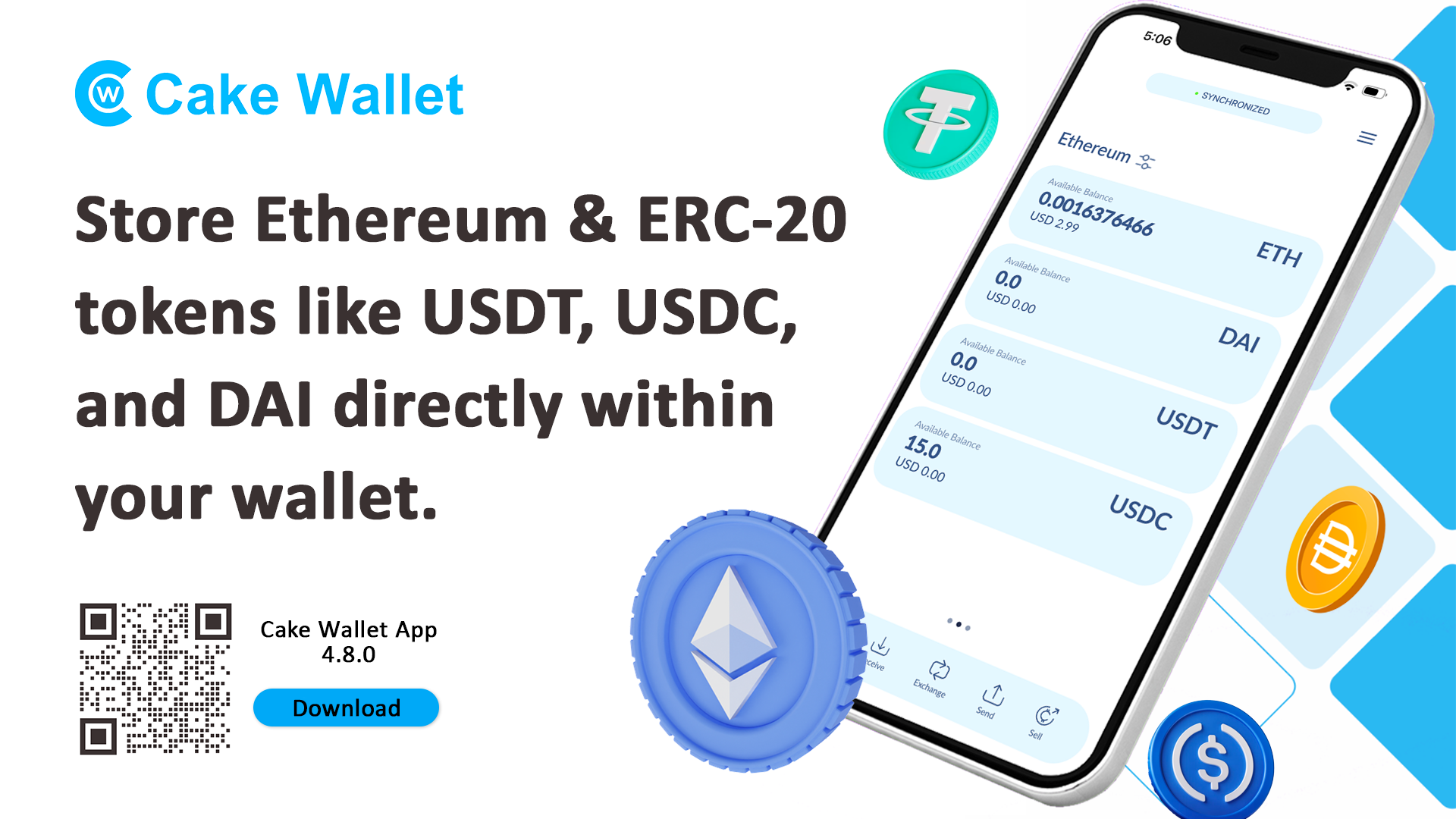 New Features and Enhancements
Cake Wallet introduces several new features to enhance your experience:
Monero Background Syncing: Stay updated with the latest developments. Learn more here.
Cake 2FA Access Control Settings: Take advantage of an additional layer of security. Read more here.
Support for Monero Node Proxy: Easily proxy your Monero node traffic through your local Orbot.
UI Improvements for Address Book Transactions: Experience improved visuals when sending to Address Book contacts.
Renaming Monero/Haven Account Names: Personalize your account names for easy identification.
Enhanced Send Templates: Send templates now support multiple recipients. Give it a try, especially for making Monero change.
Onramper Enhancements: Streamlined onramp processes.
Node QR Code Scanning: Easily scan node QR codes, including those for Umbrel.
Android 13 Optimizations: Tailored improvements for Android 13 users.
Ethereum-specific features:
Supports ETH and all ERC-20 tokens, including USDT, USDC, and DAI.
Add custom ERC-20 tokens.
Add custom Ethereum node.
Privacy setting to disable Etherscan API, if desired.
Send to multiple recipients.
Restores are compatible with other popular Ethereum wallets.
Buy ETH and supported ERC-20 tokens with fiat.
---
Cake Wallet (multi-coin wallet)
Monero.com by Cake Wallet (Monero-only wallet)
In one of the most exciting updates for the Cake Wallet team, we now have support for Ethereum and ERC-20 tokens! A vast array of decentralized exchanges, NFT markets, tokens, and so much more is now easily accessible from your Cake Wallet. We understand the importance of privacy and security when it comes to your crypto assets; that's why we've added a privacy setting that allows you to disable the Etherscan API if desired. New Features and Enhancements Cake Wallet introduces several new features to enhance your experience: Monero Background Syncing: Stay updated with the latest developments. Learn more here. Cake 2FA Access Control Settings: Take advantage of an additional layer of security. Read more here. Support for Monero Node Proxy: Easily proxy your Monero node traffic through your local Orbot. UI Improvements for Address Book Transactions: Experience improved visuals when sending to Address Book contacts. Renaming Monero/Haven Account Names: Personalize your account names for easy identification. Enhanced Send Templates: Send templates now support multiple recipients. Give it a try, especially for making Monero change. Onramper Enhancements: Streamlined onramp processes. Node QR Code Scanning: Easily scan node QR codes, including those for Umbrel. Android 13 Optimizations: Tailored improvements for Android 13 users. Ethereum-specific features: Supports ETH and all ERC-20 tokens, including USDT, USDC, and DAI. Add custom ERC-20 tokens. Add custom Ethereum node. Privacy setting to disable Etherscan API, if desired. Send to multiple recipients. Restores are compatible with other popular Ethereum wallets. Buy ETH and supported ERC-20 tokens with fiat. Cake Wallet (multi-coin wallet) Apple iOS: https://cakewallet.com/ios Apple MacOS: https://cakewallet.com/macos Google Play: https://cakewallet.com/gp Android APK: https://cakewallet.com/apk Linux Flatpak/Tar: https://cakewallet.com/linux Monero.com by Cake Wallet (Monero-only wallet) Apple iOS: https://apps.apple.com/app/id1601990386 Google Play: https://play.google.com/store/apps/details?id=com.monero.app Android APK: https://cakewallet.com/apk